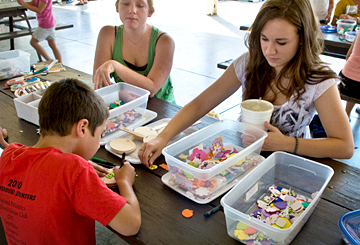 To become an Art in the Park Sponsor...
If you or your business is interested in sponsoring Art in the Park, one of the Highland community's most noteworthy events, please contact Paula Redman by phone at 618-696-2915 or by email. We can offer opportunities to make your logo and company name very visible to a large crowd of people, at a very classy art event!
We are very grateful to all of our sponsors and friends who help make Art in the Park a reality! Listed below are the sponsors of our 2019 Art in the Park event. Thank you, friends, for your continued support...
Benefactor:       
City of Highland
Hearst Illinois Media Group
Highland News Leader                                  
Sustainer:         
Edward Jones Investments / Matt Armentrout CFP
Edward Jones Investments / Kevin Dewaele
Highland Rotary Club
St. Louis Homes and Lifestyles  
Enthusiast:        
Bradford National Bank
First Mid-Illinois Bank & Trust
Helvetia Sharpshooters
Highland Machine
HSHS St. Joseph's Hospital - Highland
Mathis, Marifian & Richter, LTD
RP. Plummer/Berkshire Hathaway Home Services/Elite Properties
SCHEDULE OF EVENTS:
Friday, October 11, 2019
6 pm -9 pm       Preview Party for Artists, Sponsors and V.I.P. Guests
Saturday, October 12, 2019
10 am - 5 pm Exhibits Open
10 am - 4 pm Art Gallery - Just for Kids
11 am - 4 pm  Kids Kreation Area Open
The list continues... Thank you, friends, for your continued support...
Enthusiast cont'd:
Royal Office Source
Rural King Supply
Scott Credit Union
Spengel-Boulanger Funeral Home
Terra Properties
BUSEY BANK/TheBANK of Edwardsville
The Korte Company
Supporter:           
Basler Electric Company
DigitalArtz
Highland Optimist Club
Hurford Architects, Inc
It's Party Time
Lee's Loans, Jewelry & More, Inc.
Patty Cakes
Salon de Guerra
Wal-Mart
SCHEDULE OF EVENTS:
Sunday, October 13, 2019
11 am - 4 pm   Exhibits Open
11 am - 3 pm   Art Gallery - Just for Kids
11 am - 3 pm   Kids Kreation Area Open