Highland Arts Council commissioned Brian Willis to carve a tree scheduled to be cut down into a tribute to the arts. It is the second sculpture featured in the iconic Square in the center of Highland. We invite you to come to Highland to view its art throughout the city.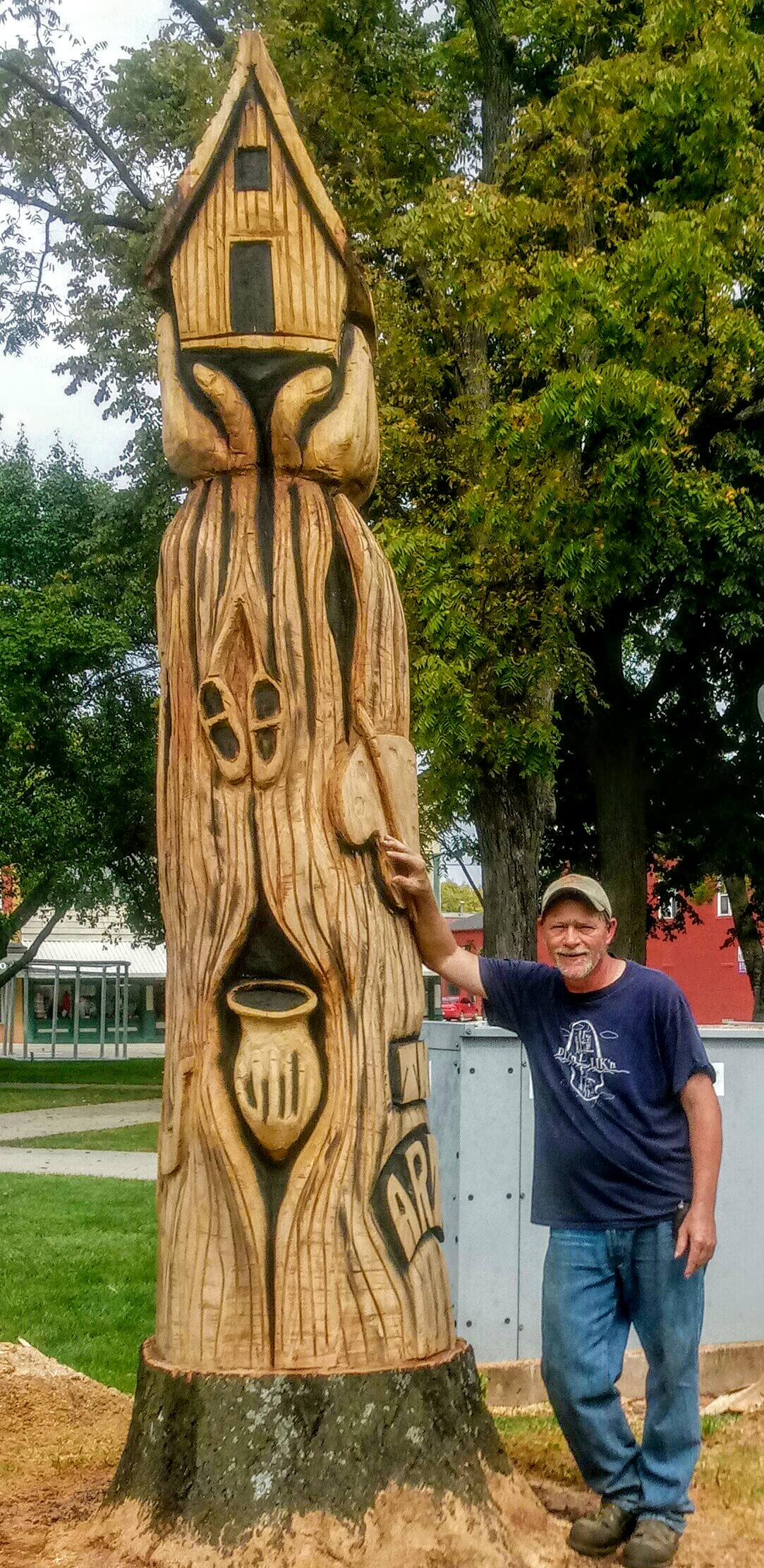 The Highland Arts Council presents a community art project for all to participate for no charge. Each pole was labeled with  a statement about the arts which people could relate to.
I love to sing.
I love to dance.
I support the arts.
I create with my hands.
I'm an actor.
I love to create.
Together, the Street Art attendees created a work of art using string to wrap around each pole. Join us to put your string in the mix in 2018.
The streets of Highland become a canvas for talented artists during this one-of-a-kind festival! Carrying on a tradition started centuries ago, the Annual Street Art Festival  will turn the streets of downtown Highland into a temporary art gallery. Curious about Street Art?
The great tradition of street painting began in Italy in the 16th century. A crowd would gather whenever a traveling artist began transforming the pavement into a colorful work of art. Although the masterpiece only lasted until the next rain, the tradition of street painting has endured, and we invite you to be part of this timeless experience!
Things to Expect at Street Art Fest
»       50 Artists Creating Art on the Streets
Meander down the street and watch as 50 or more talented artists create artwork of amazing color, depth and complexity - with chalk!
»       Music
Enjoy the music provided by our talented musicians.
»       Lots of Food Choices
Sample some tasty barbeque, pizza, or brats and have a beverage or some ice-cream, too. Wine and beer will be available all day.
»       Kreative Kids Korner for the Kids
Kids have their own special "Kreative Kids Korner" at this family-friendly event where they have the chance to make their own works of art and enjoy some imaginative fun and games.
»       A Relaxing, Hometown Environment
Art, music, great food and beverages, all at Highland's beautiful downtown square, combine to make this an event you won't want to miss!