Art in the Park - 2022
October 7-9, 2022
New - New - New
We will be taking applications soon through Zapp.
With your input, we are thrilled to announce exciting changes to Art in the Park 2022…
We will offer Indoor Exhibition Spaces! Nine 10'x10' spaces will be available in the Madison County Expo Hall which is just beyond Art in the Park's outdoor location. (For those who have exhibited with us before, the Madison County Expo Hall is NOT the building where we have held Sunday morning breakfast and awards).
Exhibiting in the Expo Hall is ideal if you would like to forego the trouble of a tent, the unpredictability of the weather, and want to be certain your artwork stays dry. Don't be concerned about foot traffic. The outdoor exhibits will lead right up to the entrance of the indoor exhibits, and we will make sure signage and promotional materials feature the changes to our show. Indoor booths are limited so they are available on a first come, first served basis. So, if an indoor booth is what you want, apply early to secure your spot. See the enclosed map for a layout.
We hope the new opportunities we are adding to Art in the Park will create a buzz in the artists' worlds as well and will make our show one you can't pass up. We're inviting you to share your wonderful art with our community on October 7, 8, and 9.
Because there is 5' space between each booth, ALL booths will be considered corner booths without extra charge for the space AND no increase in booth fees from 2021.
General Information
Should you be accepted, you will be notified after July 10. Booth assignments will be given in August.
The following information will be helpful in preparation for the show.
The 18th annual Art in the Park will be on October 7 - 9, 2022, at Lindendale Park in Highland, Illinois. Google Lindenthal Avenue and Park Hill Drive, Highland, IL 62249 to find directions to Lindendale Park.
Schedule:
October 7, 2022:  Booth setup must be completed between 10 am and 5:00 pm.
Pizza will be provided after 1 pm.
Booths will be open for viewing and buying from 6 pm – 9:00 pm. Wine will be served as VIP's shop the show.  At 7:30 pm, we will gather in the Expo Building on the grounds  for the Reception. Artists should be in their booths during the open time and can join us for the party or remain in their booths as sales continue.
October 8, 2022:  Show opens from 10 am – 5 pm. Artists must be present in their booths during this time.
October 9, 2021:  Continental breakfast will be served at 9:30 am.
Awards Ceremony will begin at 9:45 am.
Show opens from 11 am – 4 pm. Artists must be present in their booths during this time.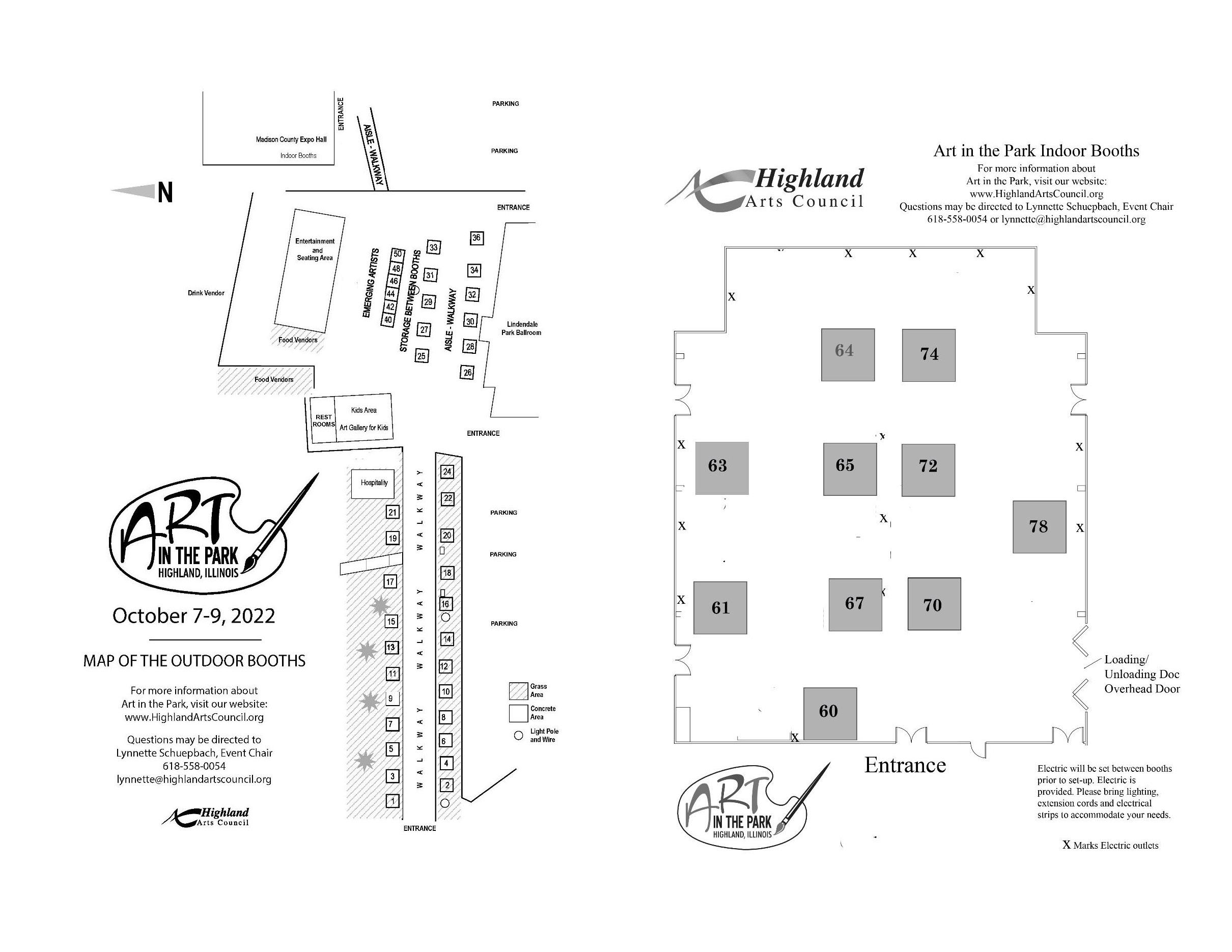 Judging:
Judges may be present on Friday night or Saturday.
Booth Assignments:
Your booth assignment will be sent to you within 4 weeks. If you have given us an email, it will come by that address. If you do not have an email, we will send it by snail mail.
Friday Preview Party:
Friday's reception is open to sponsors and patrons who have already pledged to spend at least $100 at Art in the Park. This is your time to meet serious art buyers. At 8:00 pm, we will gather in a pavilion for the Reception. Artists should be in their booths during the open time and can join us for the party or remain in their booths as sales continue.
Hotel:
For your travel convenience, we have a block of rooms at a rate of $97.99 (single or double) plus tax at Baymont Inn & Suites, 20 Central Boulevard, Highland, IL 62249. Their phone number is 618-651-1100. Please mention Art in the Park or Highland Arts Council when making your reservations. We would recommend making room reservations immediately.
Outdoor Tents:
You are required to use a white tent to create the ambience of Art in the Park. It can be quite windy, so you will need to bring adequate weights to secure your tent on grass or concrete throughout all types of weather.
Security:
Security will be provided Friday and Saturday nights.
WiFi
WiFi will be available throughout the exhibits with a secure line for artists so that you can use credit cards online. Attendees will have access to an unsecured line
Electrical Equipment:
You will need to provide your own booth lighting for Friday's Preview Party or for the entire weekend if you are located indoors. Bring a 100' extension cord to connect to electrical power for your booth. There is no extra charge for electricity.
Promotional Postcards:
Each of you will receive 25 promotional postcards to help you promote the show to your customers. We will be sending them in the mail. If you need more than 25, please let us know.
Art Gallery…Just for Kids:
We are building future adult art buyers by teaching children to buy art now. If you've agreed to donate to the Art Gallery…Just for Kids, we request you keep the size to no larger than 11" x 14". Please identify your art with your promotional information and booth number so that they can find you to thank you for your participation. Bring your donations with you and leave them at the hospitality booth as you check in or set up. All items will sell for $5 to children only. Adults will not be allowed to shop in the Art Gallery…Just for Kids. Proceeds will go to support the mission of Highland Arts Council.
Entertainment:
Live music will be going on in the pavilion near the booths on Saturday and Sunday.
Special Requests:
If you have made special requests for your booth space, we will make every attempt to satisfy your request in the order in which your contract application was received and according to your exhibiting history at Highland Art in the Park.
JOIN HIGHLAND ARTS COUNCIL
If you prefer not to register online, but would like to join, download a Membership Application!
Membership meetings are scheduled for the first Monday of each month at 6:30 pm via Zoom.
You are invited to attend, but are NOT required to attend as a member.  If you choose to help with any of our programs, send an email to HAC membership chair. Click here.